One of Away Holidays most popular Australian destinations is Melbourne. It is considered to be one of the country's most cultured cities; featuring landscaped gardens and parks, theatres, art galleries, museums and spectacular Victorian era architecture, this is a must-visit destination for those with an interest in history and art. However, Melbourne is a city with something for everyone; so whether you're in search of family-friendly attractions and cultural sites, or are simply hoping to indulge in some retail therapy, you'll find what you're after in Melbourne. Here, we discuss three of the city's most popular attractions.
Many clients of Away Holidays are parents with children, who want to see and do things which are fun for everyone, both young and old. In such cases, there's no better place in this city than Melbourne Zoo, which has been open for more than one hundred and forty five years. Here you'll find Tree kangaroos, penguins, Asian elephants, brown bears, Orang-utans and much more besides. Cages are a thing of the past here; instead, the animals roam freely around spacious walk-through areas, providing them with a lot more freedom, and allowing visitors to enjoy watching the animals living in a more natural environment.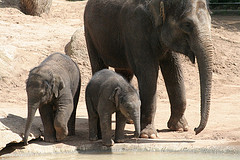 For those who are in search of culture and evening entertainment, a trip to the Southbank Arts centre is a must; this is considered to be the city's primary landmark and is the main venue for performances by the Melbourne Symphony Orchestra, the Australian Opera and the Australian Ballet. In addition, it is also home to the National Gallery of Victoria, the Arts Complex and the Melbourne Concert Hall. If visiting at night, make sure to keep an eye out for the beautiful sight that is the spire of the Victorian Art Centre; each evening, it is lit up with multi-coloured fibre optic cables.
If, like many other Away Holidays customers, you love to shop at local markets when you travel, we recommend a visit to the Queen Victoria Market in Melbourne. This has been open for one hundred and twenty five years, and is the perfect place for a stroll on a sunny afternoon. There are hundreds of stalls here, selling all kinds of goods, including handmade crafts, colourful artwork, vintage clothing, jewellery and souvenirs. You can also enjoy a bite to eat at this market, as it is home to a large deli which sells delicious locally made cheese, as well as fresh fish, cooked meat and vegetables.