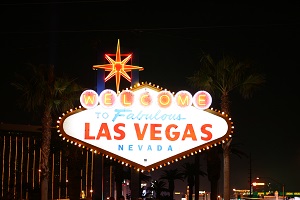 Las Vegas is one of the many American cities available for booking through Away Holidays. Situated in the desolate centre of the vast Nevada Desert, Las Vegas is one of the most eccentric cities on the planet. Las Vegas grew in popularity as a holiday resort and as the holiday industry grew, so did the entertainment become ever more lavish and over the top. Every year millions of people visit Las Vegas through travel agents like Away Holidays in order to experience the city's infamous nightlife and many incredible hotels.
Las Vegas is particularly infamous for its incredible theme hotels. Most hotels have their own casinos, entertainment and usually some fantastically exotic and bold theme. Some of the heavily themed hotels available through Away Holidays include:
Inspired by the ancient Welsh legends of King Arthur, the Excalibur hotel is modelled after a medieval castle and all its entertainment is designed to make its customers feel like royalty. The result is an elaborate castle facade backed by huge skyscrapers complete with their own towers and crenulations.
Modelled on the ancient cultures of Egypt, the Luxor is most notable for having its own replica of the Sphinx at Giza, a full scale Egyptian pyramid. Bizarrely however the Luxor's ancient monuments emit their own spotlights high into the night sky.
Complete with its very own fake New York streets and a New York themed rollercoaster, New York New York is raucously fun. With Away Holidays travellers can spend 3 nights experiencing New York New York from £695.
The Monte Carlo Resort tries to mimic the style and sophistication of classical and renaissance Italy, the result is a fantastically gaudy cavalcade of arches, porticos and statues. Prices from Away Holidays begin at £695 for three nights.
Getting to and enjoying Las Vegas' many wonderful hotels couldn't be easier thanks to Away Holidays. The Away Holidays contains a wide range of information regarding destinations all across the world and for every destination Away Holidays provides fantastic deals on a range of hotel and travel options. Thousands of customers enjoy booking their holidays through Away Holidays every year thanks to Away Holidays' dedication to extreme convenience, helpful customer service and affordable prices.